Co-Host, Celtic Café Radio Programme -Pat Laffan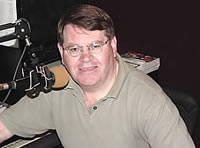 Pat Laffan came over from Ireland in 1978, looking for adventure! Life was good across the sea, but he wanted something more; his wife had family over here, so it's here they decided to settle.
WLIS/WMRD came looking for him ten years ago to host a show based on Irish music, complementing the weekend mix of music from around the world. Today, he and Marc have a great time searching out and playing distinctive music with that a "Touch of the Celt".
Co-Host - Marc Gallagher Bio