Co-Host, Celtic Café Radio Programme - Marc Gallagher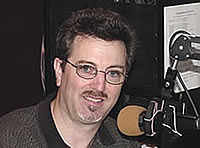 Marc has been enjoying Celtic music ever since a friend in college introduced him to the genre at a local pub in Mystic, Connecticut back in the mid 70's. Since then he has been adding to his library and knowledge of Celtic music through travel, talk and listening.
Marc's first stint on the radio began back in Chicagoland on the Irish Hour produced in Joliet, Illinois in the mid 1980's. Since then he has traveled to Scotland, Ireland and many other places around the world in search of Celtic Music. Marc has an uncanny knack of finding an Irish pub everywhere he goes.
Marc served as Vice President of the Irish American Community Center in New Haven, Connecticut and was the Entertainment Chairman for the CT Irish Festival for the first three years of it's existence. Marc joined Pat Laffan in 1996 to co-host the Celtic Connections Radio Show and continues to serve as co-host of Celtic Café Radio Programme.
As a sideline to Celtic Café, Marc has a DJ Sevice that specializes in Irish, Scottish and Oldies Music. Check out more at IrishDJ.com.
Co-Host - Pat Laffan Bio